Download our App From the App Store!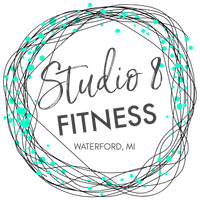 Head over to your App Store of choice and download our app, Studio 8 Fitness.
Once you have it downloaded, follow the prompts to register. 
Once registered, you can see the current class schedule, all of the packages and more. 
You can purchase packages, sign up for classes and see the special events right from the app!
We are located on the North side of M-59 between Cresent Lake Road and Pontiac Lake Road. You enter the studio through the side doorway on the lower level. Parking is on side near entry or in the front area pictured here.